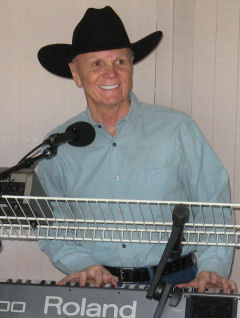 Looking for live music in the Rockport, Port Aransas, Portland, Corpus Christi area of the Texas Coastal Bend? If so, check out the full rich sound of Ken Vestal.
Live vocal and live instruments are combined with just the right mix of professionally prepared backing tracks to produce an incredibly rich sound which you would expect from a much larger group of professional musicians. Ken is an ideal choice for small to medium sized events with 30-200 people such as birthday parties, anniversaries, wedding dances, senior dances, church group fellowships and company parties.
The music repertoire includes country, folk, swing, 50s, oldies, jazz standards, cajun, polkas and gospel. Each program is tailored to match the musical tastes of the event organizer and/or attendees.
The music features:
traditional favorites as well as recent hits
"covers" of popular recordings as well as original songs and arrangements
country songs made popular by stars such as George Strait, Alan Jackson, Tracy Lawrence, Floyd Cramer, Randy Travis, Alabama and The Eagles
folk songs made popular by stars such as John Denver, Doc Watson and Crosby Stills and Nash
"oldies" and "50s" songs by stars like The Platters, Buddy Holly, Roy Orbison, The Crew Cuts and Fats Domino
a mixture of waltzes, two-steps, polkas, swing and cha-chas selected specifically for your dancing pleasure